Sioux Theatre Marquee Neon Restoration 2021 – 2022
HISTORY OF THE MARQUEE  1939 – 2015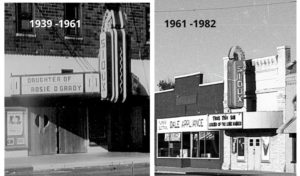 1939:  Harry Lankhorst purchased the old Tivoli Theatre (the old Variety Store – 809 Central Ave) and changed the name to the Sioux Theatre.  A large Indian Chief Head was installed as the marquee.
1961:  The Sioux Theatre was sold to Jerry Streit and the theatre, including the Indian Head Marquee, was moved across the street to the site of the former Comet Theatre (710 Central Ave).
1961 – 1982:  November 10, 1961 was the opening date showing the movie Tammy Tell Me True. The theatre closed December 31, 1982 when E.T. was shown to a packed house.
2012 – 2015:  The Indian Head Marquee is resting safely in a local barn. It was donated to the Hawarden Historical Society in 2015 and continued to rest at the Old City Hall and the Calliope Store Garage.
THE CHIEF's NEON RESTORATION  2021 – 2022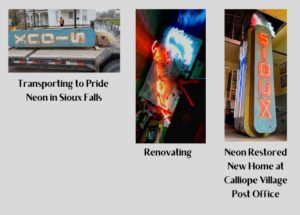 Thanks to Zach Ron Hill for leading the fundraiser on FB and all of the contributors who made this restoration possible!!!